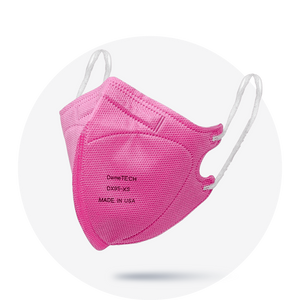 5-Layer Kids Masks (Pink)
Our quality-controlled 5-ply kids face masks are manufactured in the USA and shipped from Greer, South Carolina.
These masks are small with short earloops so they stay in place when worn! 
20 masks per box. 
The Particulate Respirator Fold Style is manufactured using the highest quality materials. The respirator is comprised of 5 layers, with 2 filtration layers that filter airborne particles.
Fold Style (with comfortable FOAM padding over the nose)
Soft Inner Polypropylene Layer provides comfort for long periods of wear.
Double filtration layer provides strong protections against airborne particles and bacteria (tested in 3rd party laboratory).
High-density outer polypropylene layer provides strong resistance against airborne liquids.
Double-welded earloops provide a strong fit and seal against the wearer's face.
Unique Folded Design provides low storage space while not in wear
Technical Information(42 CFR 84)

Particle Filtration Efficiency (PFE): >95%
Exhalation Resistance: <35 mm H2O
Inhalation Resistance: <25 mm H2O
Additional Protections

Resistance to penetration by synthetic blood, measured in mm Hg: 160mm Hg
Bacterial Filtration Efficiency (BFE): >98%
Flammability: Class 1
N95 Respirators & Nitrile Gloves Available in Bulk
Contact Carolina Facemask & PPE any time if your business needs any additional PPE items.
Contact Us for Bulk PPE Items